It has now been about one week since Lighting In a Bottle – and a part of me feels like I left a piece of my soul there that will forever be living in the magic of LIB.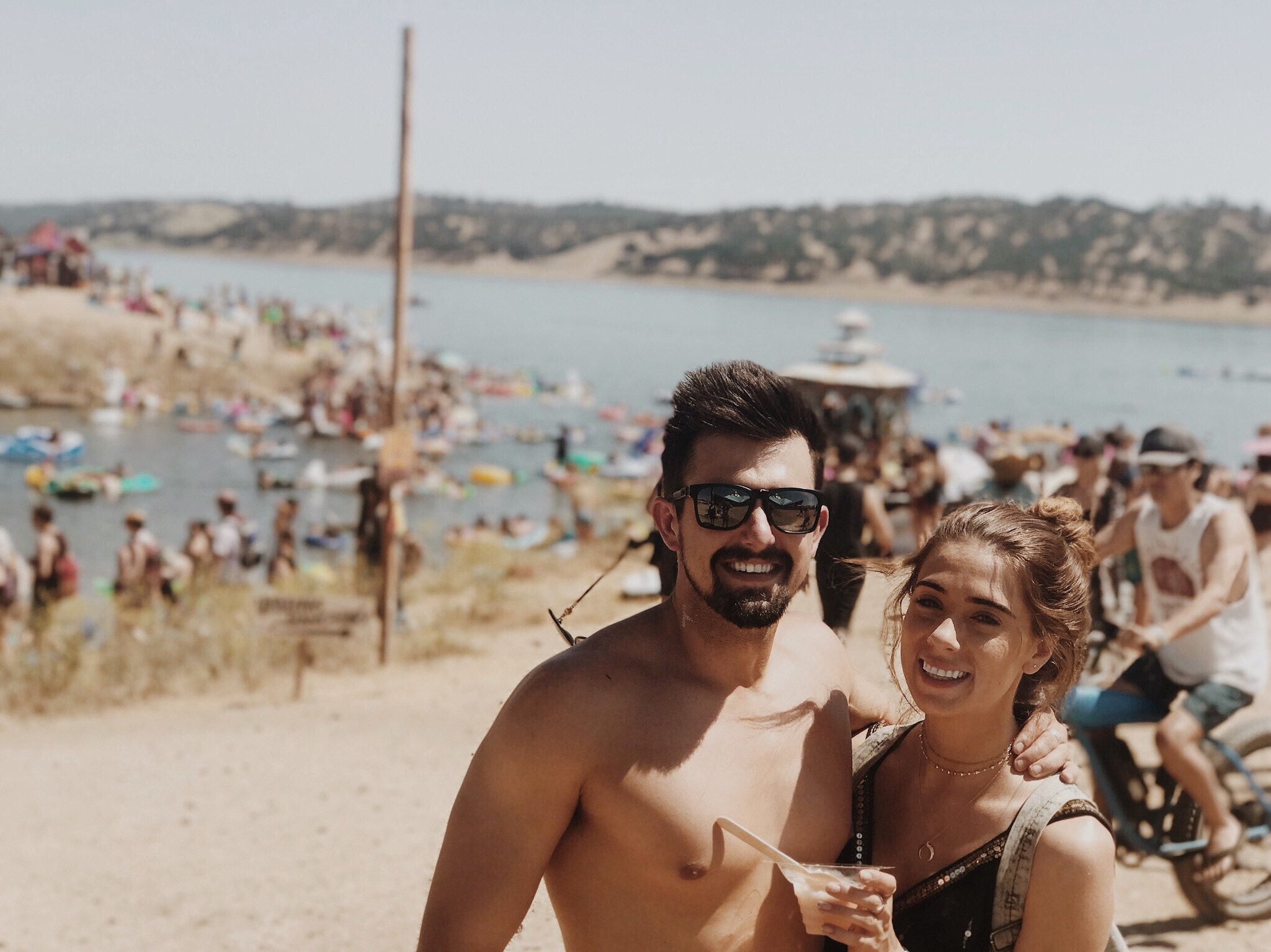 OK. Let's back up to the planning of this entire experience, and trust me there was A LOT of planning. LiB was my first official camping festival experience and I wanted to make sure that I had all the essentials and then some (Amazon, you are my hero). Just to list a few things that I brought with me that were total life savers (besides the obvious): 
- Ozark Instant Cabin - EASY set up.
- Queen Air Mattress ( A small sleeping pad will not work in this terrain) 
- Fan/Light to hang from tent  
- Plastic Drawers ( for my O.C.D peeps)  
- Fold out Table  
- Chairs  
- Jetboil & Instant Coffee  
- Outdoor Rug 
- Canopy Tent  
- Tapestry's (jazz up your spot and stay out of the sun) 
- Zip Ties / Paracord    
*put your tent under the canopy to beat the harsh morning sun*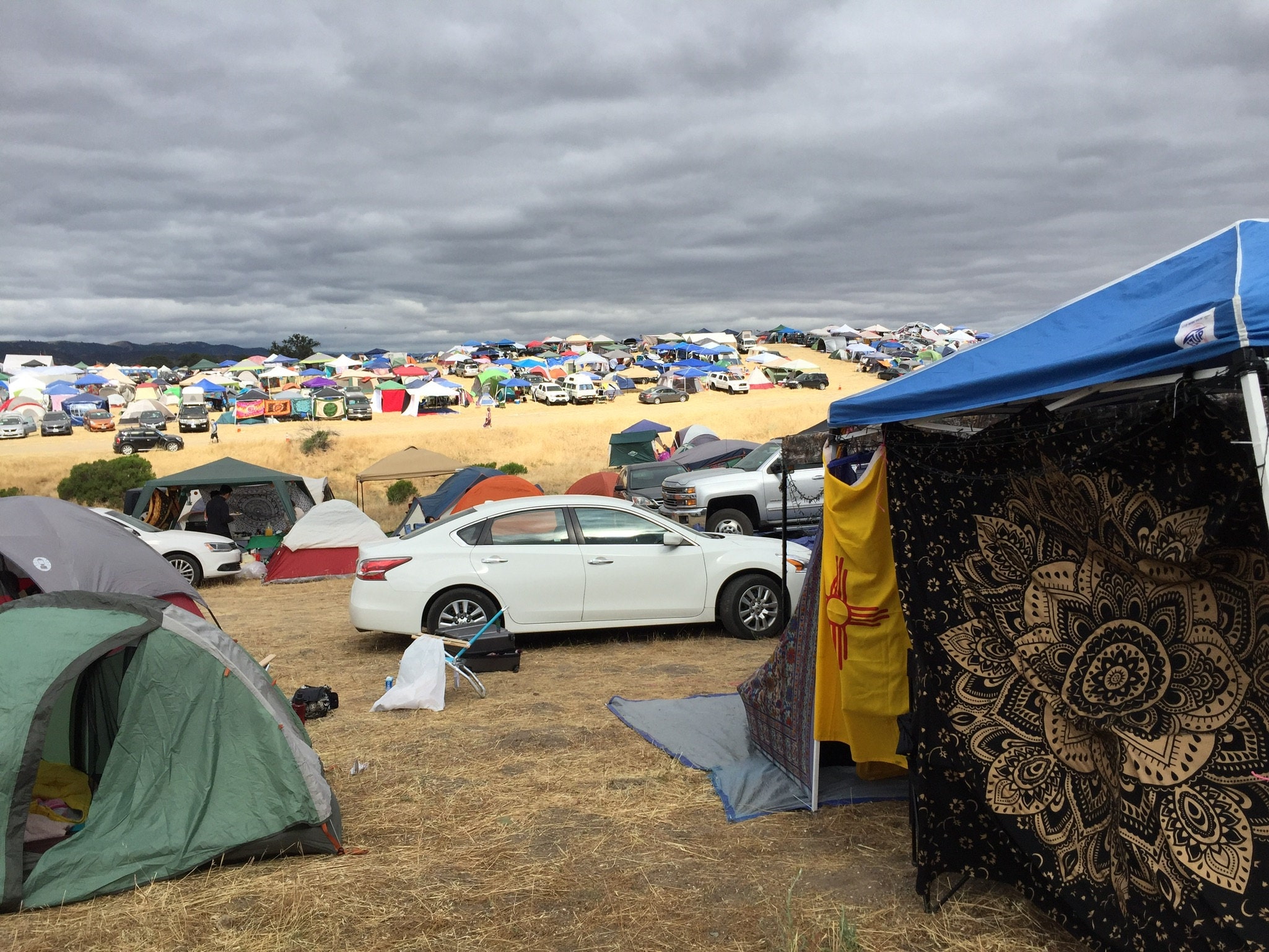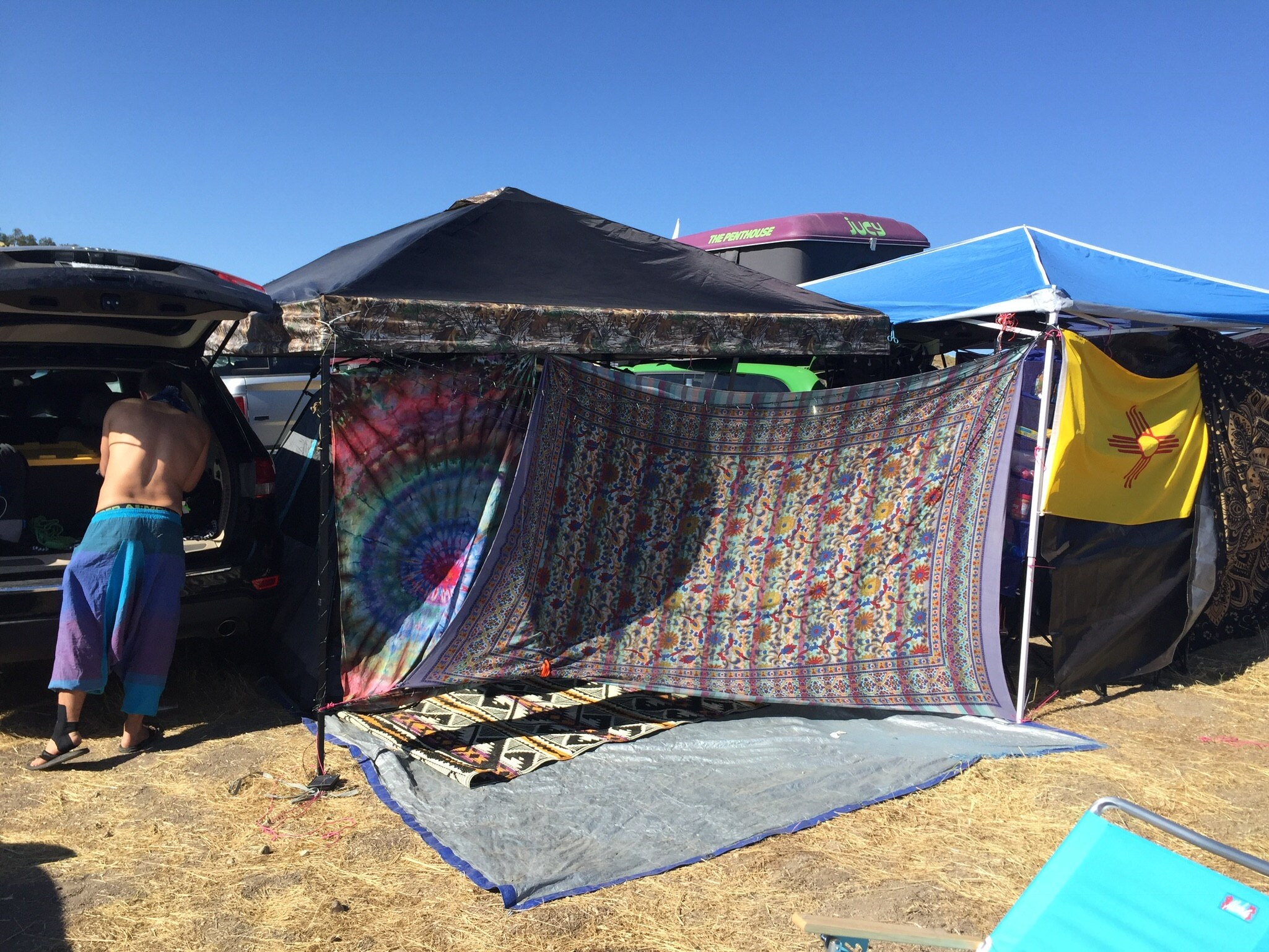 This is your chance to get crazy, wear bright colors, and bring out those clothes hiding in the back of your closet. DO NOT dress normal. Let your eccentric/groovy/fun side show. I saw so many amazing outfits, and am already inspired for next year's get-up. But here are a few basics you need to bring: 
- Closed toe shoes ( combats are a great option) 
- Slip on shoes are also good as you won't want to lace up combats at 4 am to                 head to the "porta potty" 
- Bandanas – the dust is REAL  
- Jackets – the days are hot but the nights get pretty cold  
- Backpack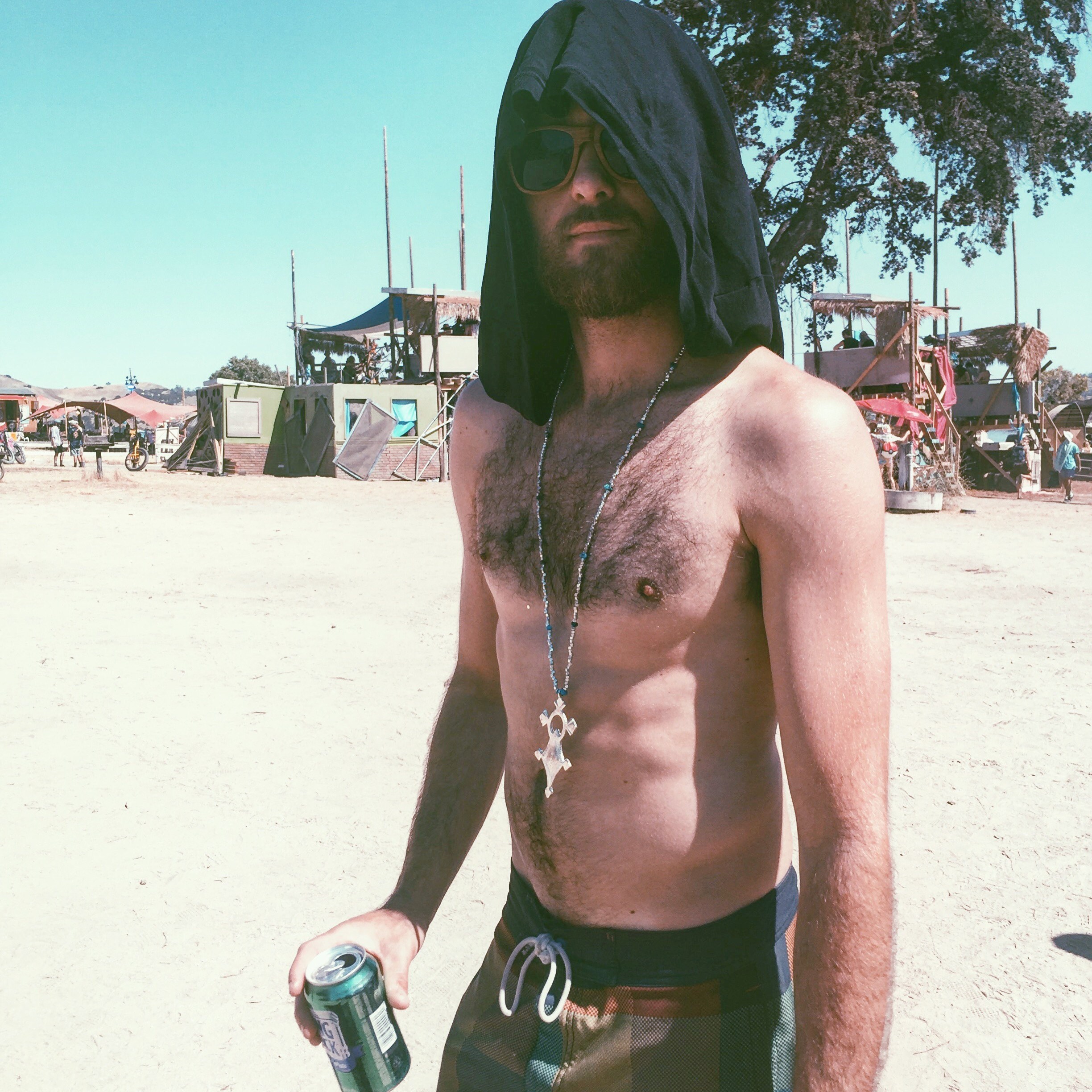 EXPERIENCE.  
It will take a while when you arrive to even get into the festival if you plan on arriving on the first day. But it's not that bad when all of your friends are in the same line. Roadside games like football are totally acceptable and make the time pass. But also take this time to make a game plan of where you want to park. It is super hectic when you arrive and you have to make quick decisions.    
Setting up camp was one of my favorite parts of this experience. Take your time and be strategic. This will be your home for the next few days, and you're going to want it to be as comfortable as possible. Introduce yourself to your neighbors and take an opportunity to make new friends. I introduced myself to our neighbors and ending up meeting Boo. She was super awesome and gifted us one of her beautiful handmade tie-die tapestries (shop here)!!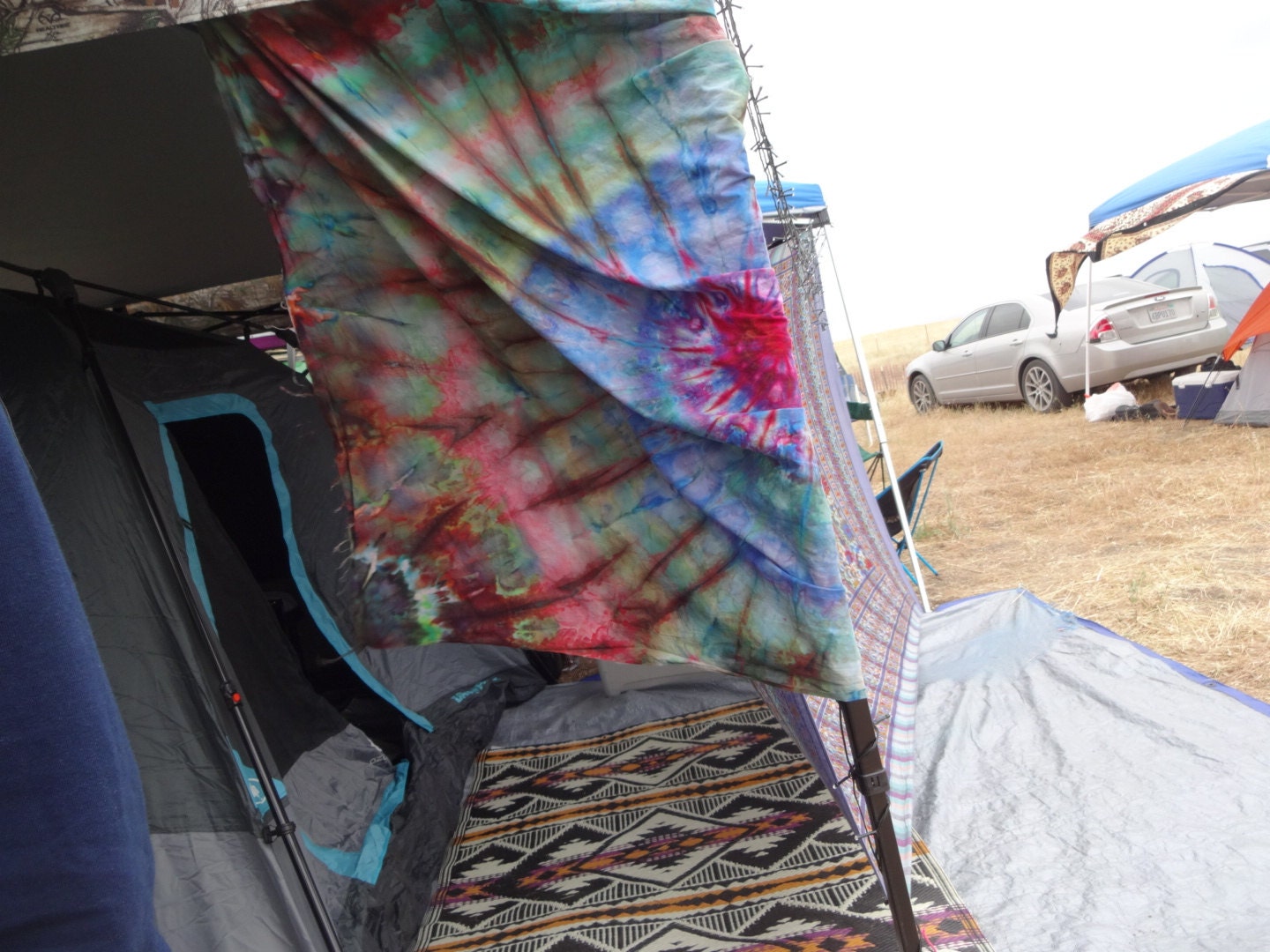 EXPLORE.   
After we got set up, drank a few beers, and made friends with our neighbors we were ready to venture out to the magical land of LiB. There is so much to see. So much to do. And so much dancing to be done. 
The interactive art is amazing, I mean the child in all of us is dying to spin around on a giant globe. The festival is huge, and there is so much attention to detail in each of the stages. Soak it in, and appreciate all of the hard work that was put in– time goes by extremely fast.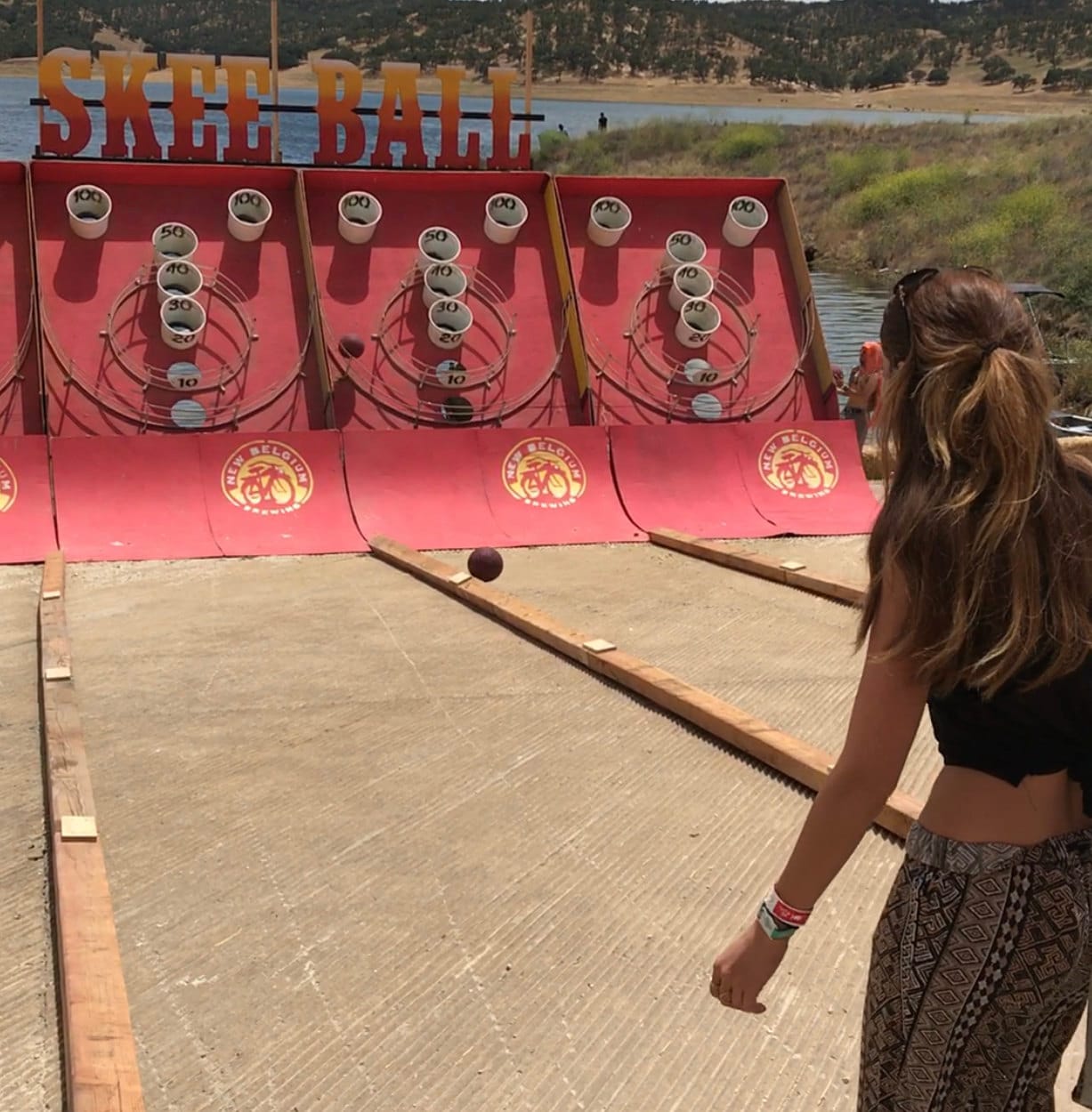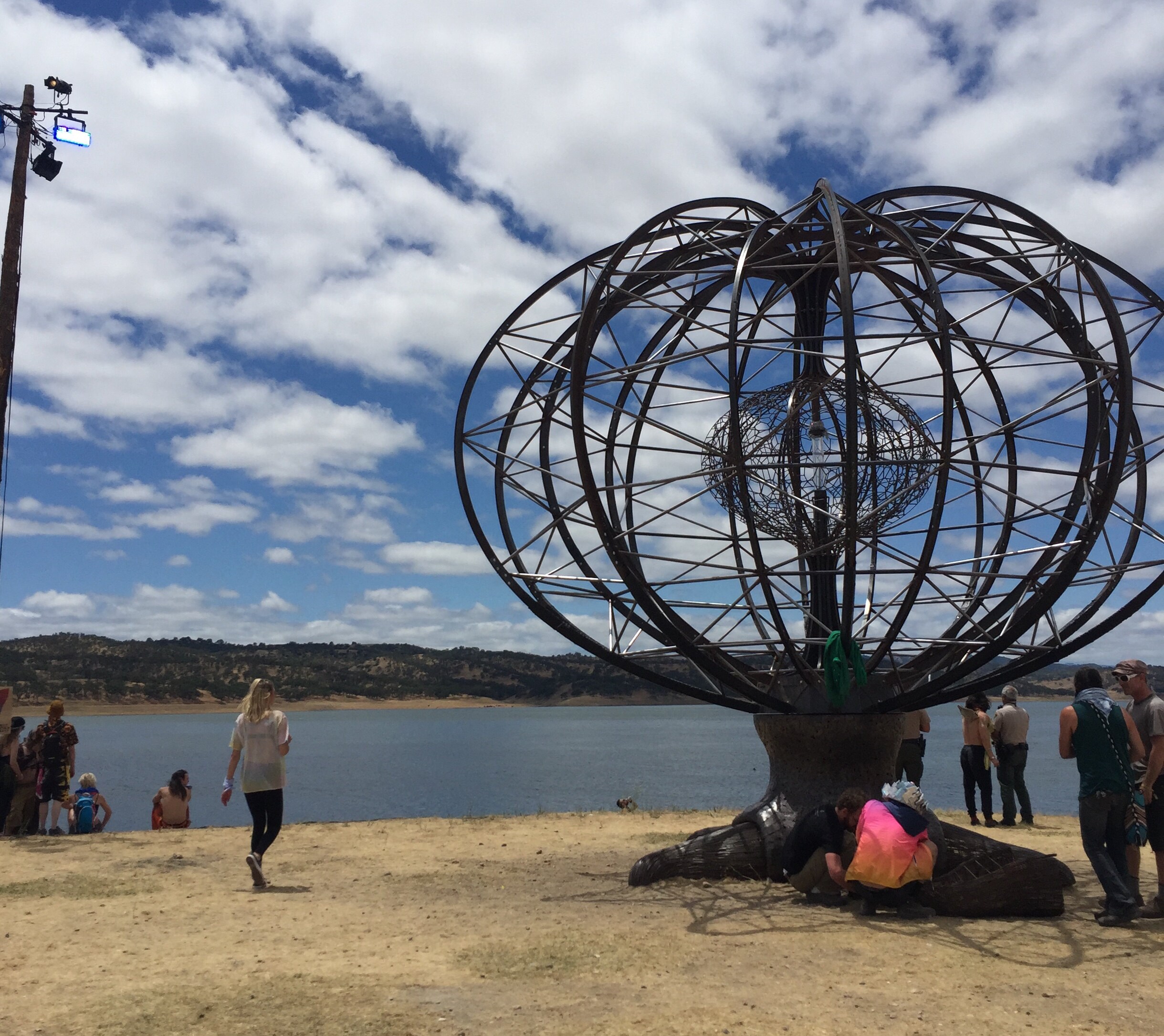 EAT. 
Um… this festival brings it's freaking A game when it comes to the food. The options are mostly organic/healthy and the prices are seriously reasonable. I had "Sexy Eggs" just about every day with a cucumber lemonade from The Rancho it gave me the energy I needed to get through the days! I tried a few other places as well, and was never disappointed. Remember to bring cash!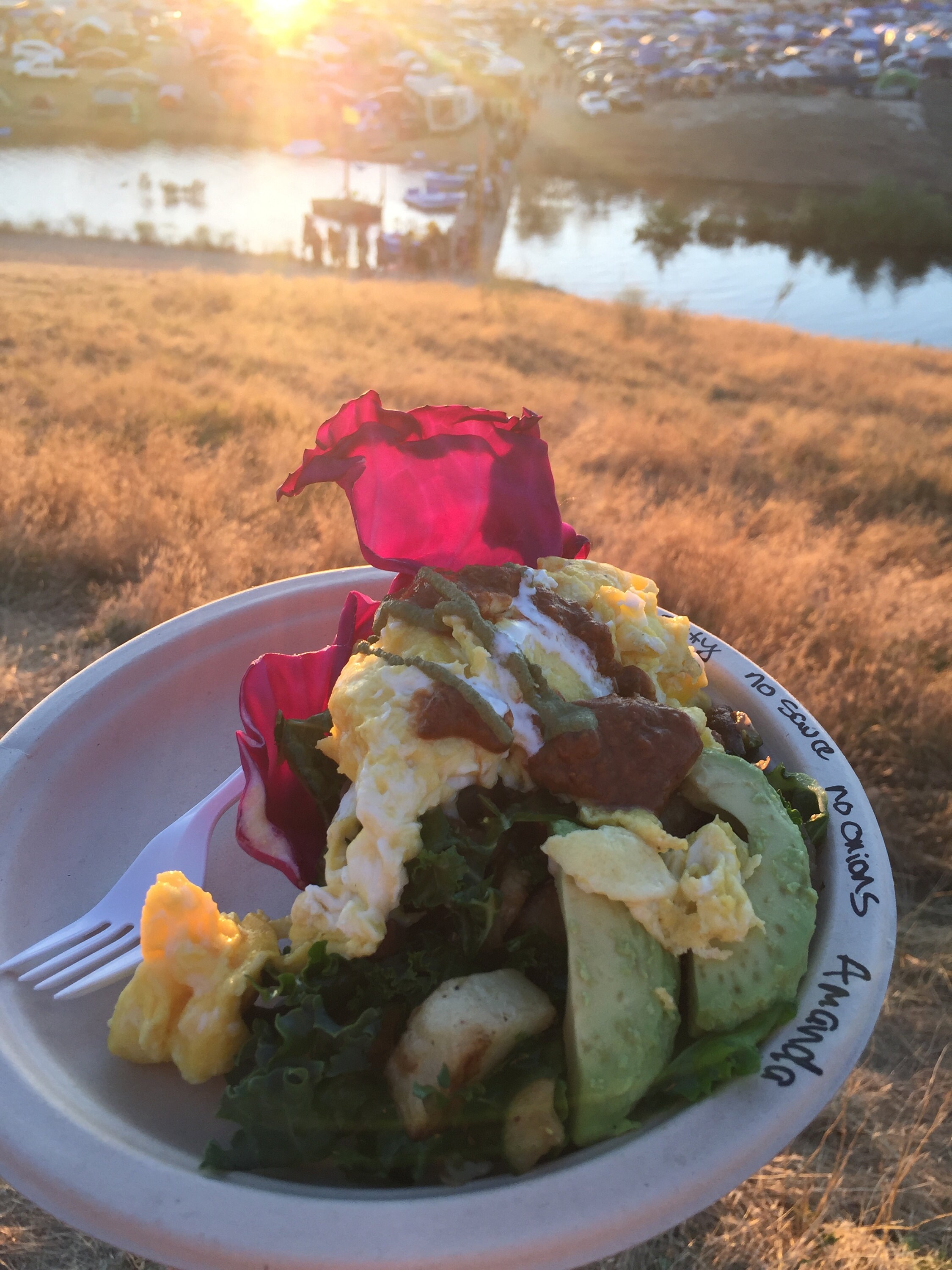 MUSIC. 
Obviously we all have the artists that we are for sure going to see, but it is so important to check out new artists as well. I went to Madame Ghandi, who I found out was the previous drummer for MIA – anyways she was so fun to watch and said that we were the biggest audience she had ever played for. She was so grateful for our support, and I was grateful to be a part of it. Don't get stuck at one stage for too long – stage hopping is the best!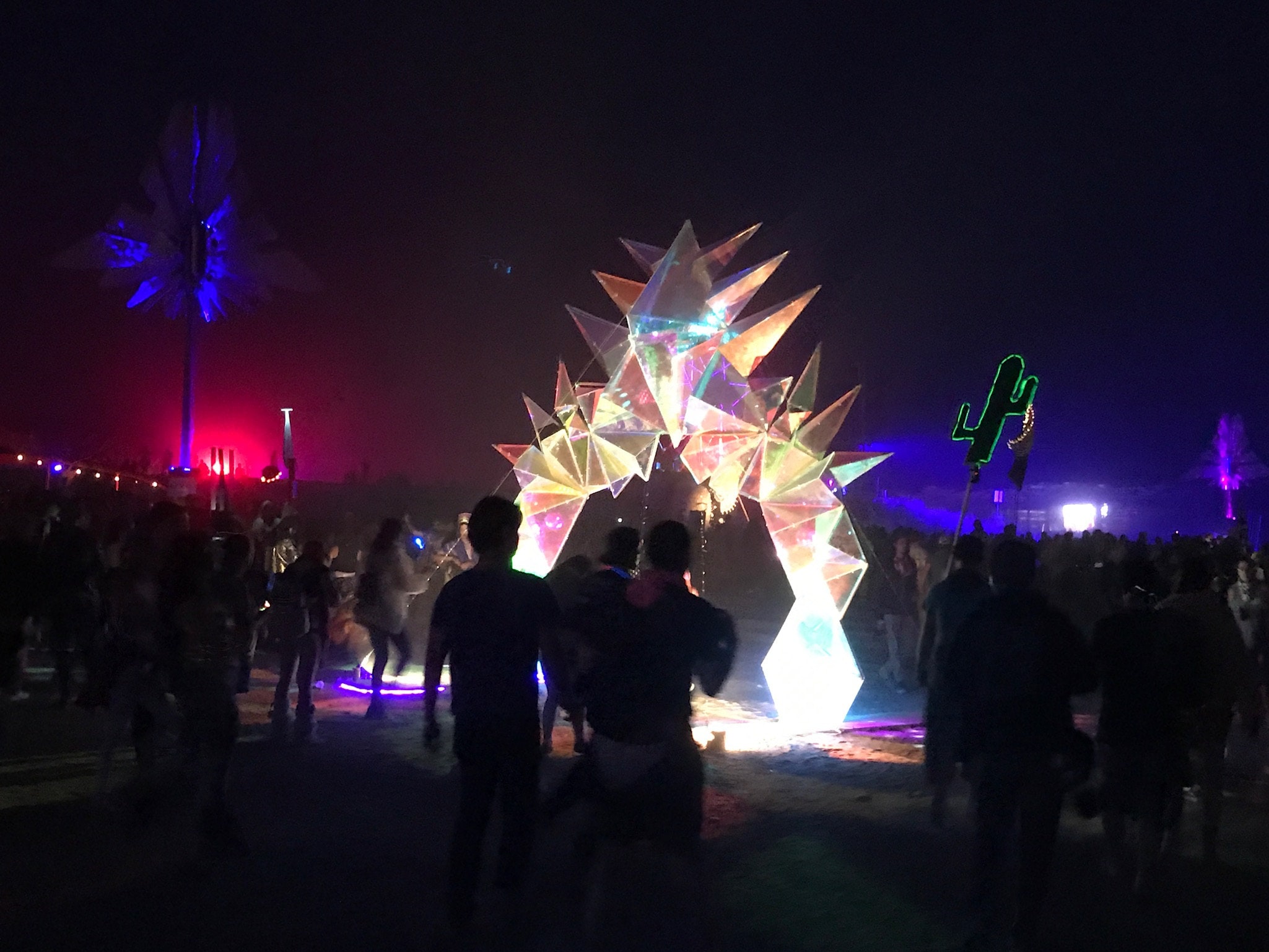 The atmosphere at the Grand Artique was an incredible vibe. This is a perfect stage to get your gypsy on and explore the "trading post", grab a drink at the bar, and play games. MUST SEE.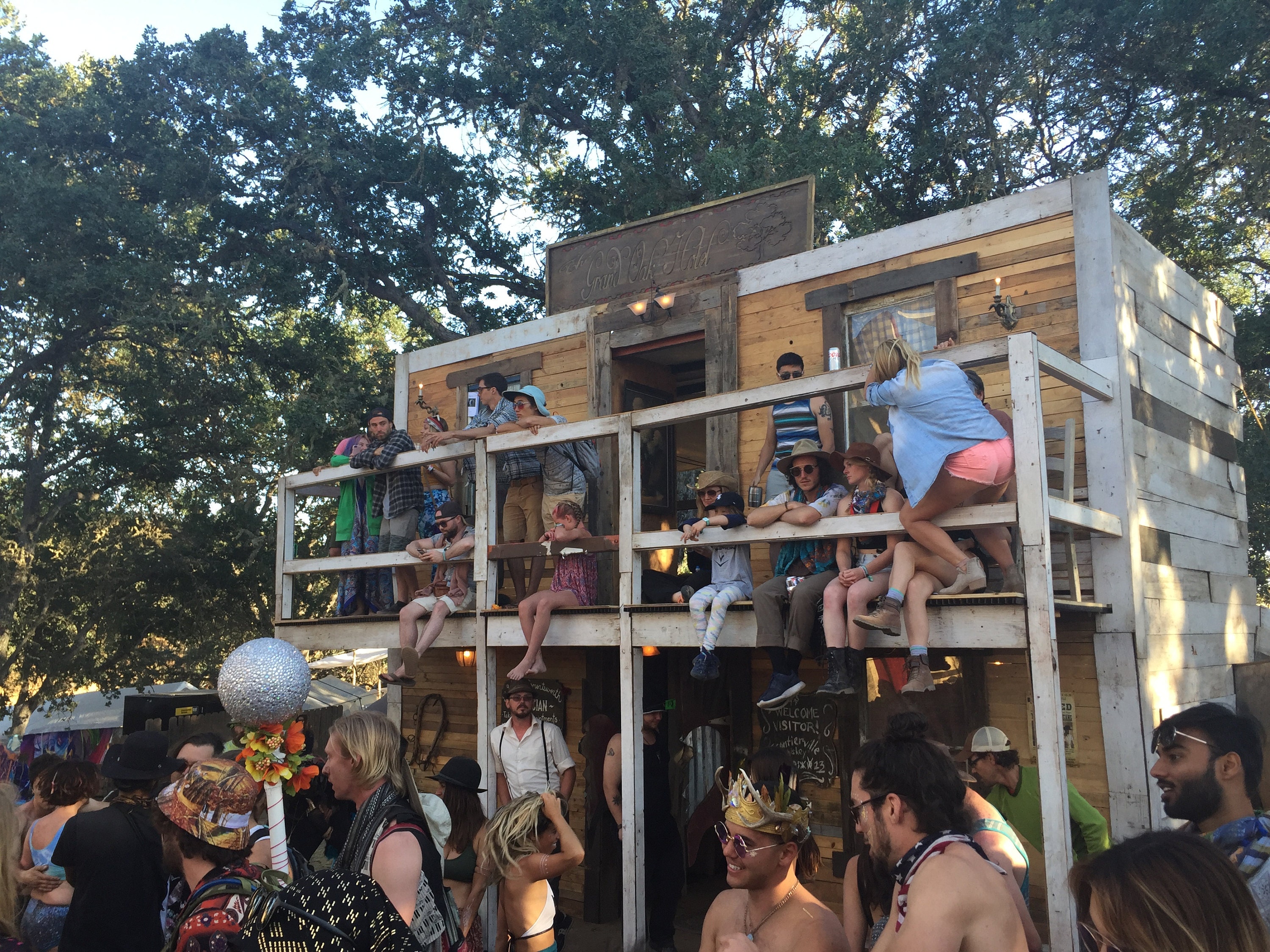 Thunder & Lightning Stage – AMAZINGGGG. The architecture, the lights, and of course the artists make this place a gravitational force. You can't walk by without being drawn into the crowd. The totems this year were also epic! 
YOGA. 
Do it. I know that sleep will sound like a much better idea, but you'll thank yourself later.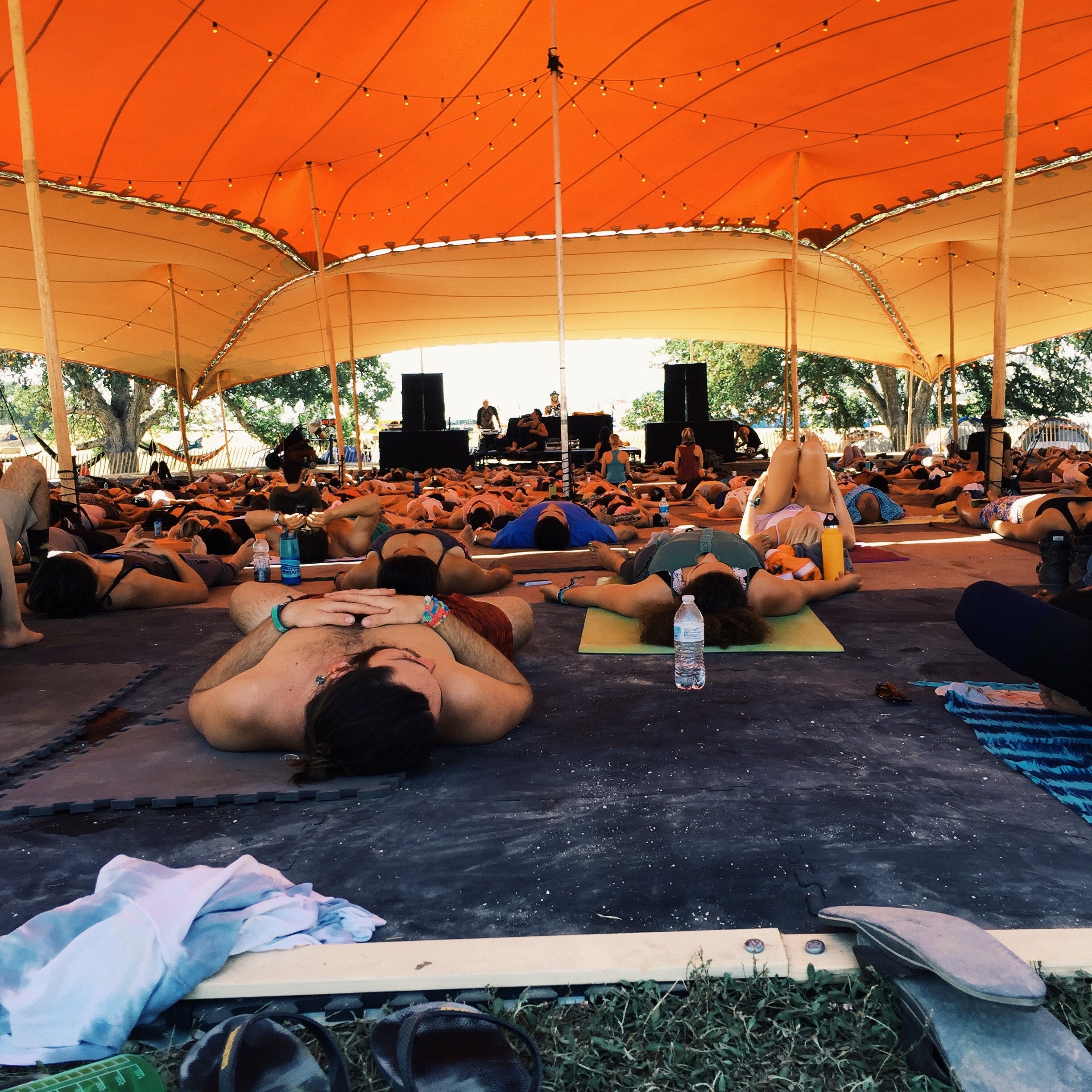 SWIM. 
This year the lake was full, and you better know that is was filled with a sea of pizza slices, flamingos, pineapples , unicorns, and SUP boards! I got to take part in this on the last day – so necessary.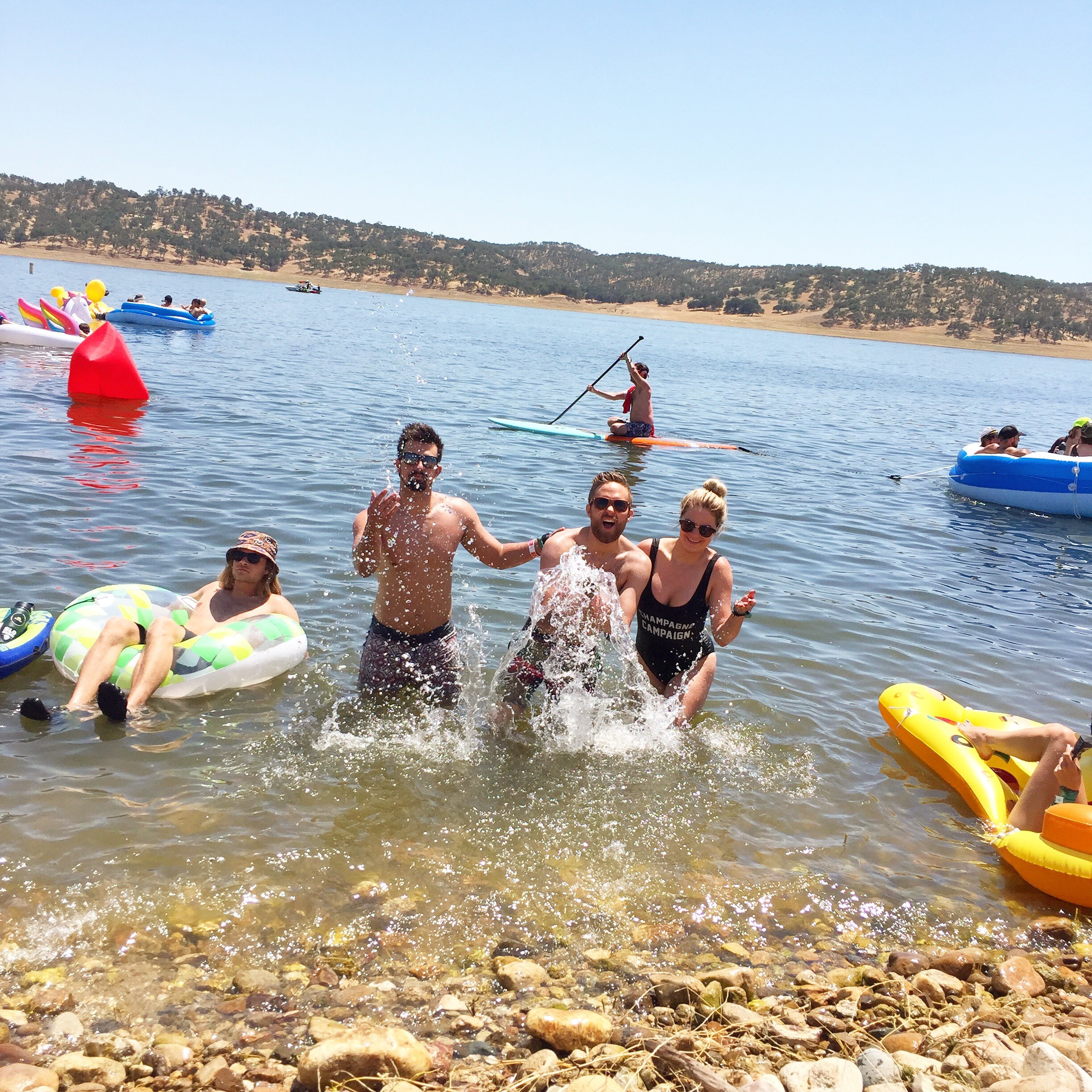 Lightning in a Bottle is an experience that I will never forget. I left feeling enlightened with a new perspective on life. Feeling grateful for everyday on this beautiful Earth. Until next year!!! <3